Here I am again with a two-week combo post. Ideally, I would really like to get back to my weekly updating schedule, but I am also in school (as of last month) and I find that most of my free time is being co-opted by schoolwork, mostly reading. So, I can't promise that I will always be on time, but I am going to try and post every week, even if it's just a short summary. Without further ado…
Lillia's Adventures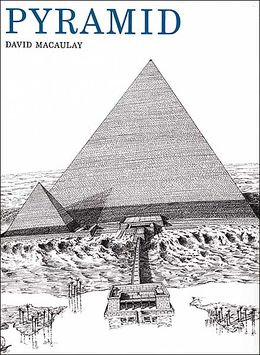 For the past two weeks we have been working our way through David Macaulay's book, Pyramid. Macaulay, an illustrator and professor of art at the Rhode Island School of Design, traveled to Egypt to study the landscape and the pyramids in preparation for the writing of his wonderful book. Pyramid is a fictional story based on the real-life construction of a large pyramid on the Giza plateau. It was so fascinating to learn how the Ancient Egyptians were able to plan and carry out building on such a large scale. Their innovation and creativity in solving some difficult problems (such as how to move very, very heavy blocks of stone) is truly inspiring. The dedication of the workers to their task is also quite remarkable. We also watched an old PBS documentary about the pyramids, hosted by Macaulay himself, which you can watch for free on YouTube.
Last week, in Jacob's Ladder, we read "The Dog and His Reflection," and then discussed the consequences and implications of his actions. We talked about the "price" that the dog paid for his greed, and made a chart of the different qualities that the dog possessed, attributing both positive and negative aspects to each one. This week we read "The Fisherman and His Wife" and then discussed the consequences of both the wife's demands and the husband's willingness to act on them.
Lillia also started to work on a new "book," based on the Warriors series by Erin Hunter. She's been diligently typing away during her free time. I highly recommend allowing children to use the computer or a word processor for writing exercises or creative writing, especially if they are resistant writers. We created this work space for Lillia in her closet (which I blogged about elsewhere). Now she has a designated area to do independent work, and some privacy from grabbing hands (little brothers).
This week we finished Life of Fred: Edgewood, and I am scrambling to order the next book for the coming week. Thankfully, the supplier ships very promptly. This wasn't my favorite book in the Life of Fred series. The educational content was superb but I felt that the plot of the story was a bit contrived and rambling. This is not a huge criticism, but just something I noticed. Lillia can now add five digit numbers together, and she really enjoys it. When asked to add 83,640 to 47,257, she exclaimed, "I love extreme math problems!" Edgewood also dealt extensively with percent and averages. I feel that the exercises are getting more difficult, and I often have to talk Lillia through them. But, I have no complaints since that is why we are using this curriculum!
There is a new homeschooling group in Walpole, which meets at the library on Thursdays. I'm interested in going, but also hesitant. We're kind of a self-contained unit, and I'm a major introvert (it takes a chisel to get me out of the house). Also, Lillia gets plenty of socialization going to the school twice a week, dance classes twice a week, and playdates at least once a week. Still, maybe it would be nice to network a bit. Do any of you take part in homeschooling groups or co-ops? Do your kids enjoy it, or is it more for you (the educator)? I'd love to hear about your experiences.
Zane's Adventures
Last week Zane was really interested in cleaning…
…everything.
And, he got a haircut!
This week Zane has been building forts,
assisting with closet renovations,
and, nurturing this little baby doll (these "Magic Nursery" dolls were mine as a kid, so they're at least 20 years old but in remarkably good shape for their age).